Well, I finally got some of the Narrow Stacking Rings photographed and listed. I learned
my lesson
. Of course, I couldn't simply make the rings, I had to hammer some, oxidize some, and leave some alone. I love the look of the Freshwater Pearl ring, with its hammered and oxidized band. I really love the photo with the black rocks. What do you think? By the way, Pearl is the birthstone for June.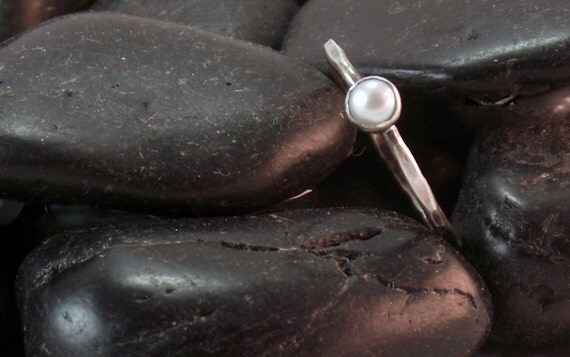 Here is a shot showing all of the new rings. They have not all been listed yet, but I am getting favorited on
Etsy
. I love this picture. The colors are so pretty.
I started my
class
on Saturday. This will be fun! I am planning on making a ring and a pair of earrings, both from the
new stones
that came in. I am going to use the Amethyst for the ring, probably with some silver balls on the bezel, and a pair of the Tiger Eye for the earrings. I have been using premade bezels so I am looking forward to learning to make them. I am hoping to improve my soldering skills and learn to properly finish and polish.